Cullen Bunn & Blacky Shepherd Conjur Vampirella vs. ReAnimator
Sep 18, 2018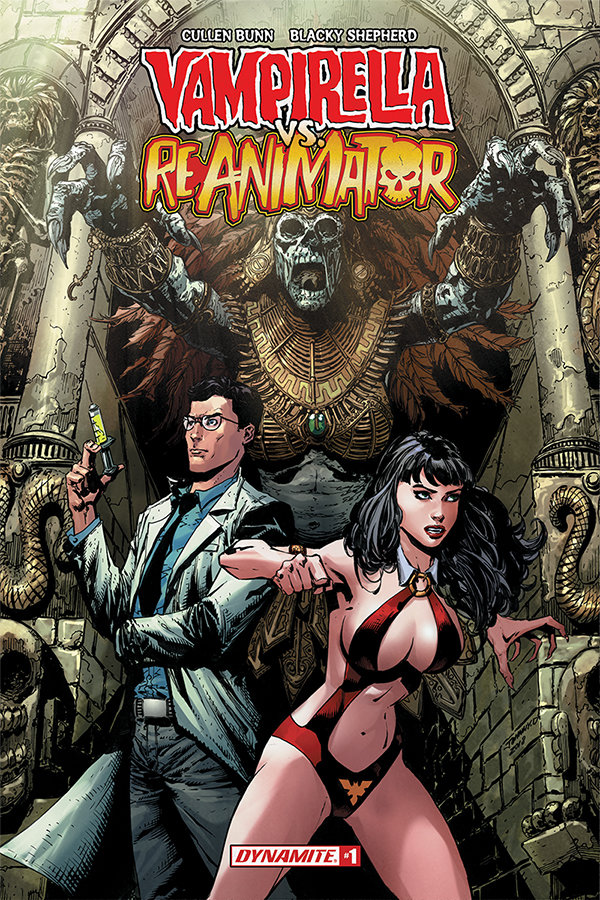 Dynamite Entertainment announced today the creative team of Cullen Bunn (Pumpkinhead, Deadpool) and Blacky Shepherd (Pumpkinhead, Voltron) will be squaring off two horror icons this winter with Vampirella vs. ReAnimator! It's vampire versus mad scientist in a battle that threatens to tear the gates of the underworld asunder!
In
Vampirella vs. ReAnimator
, Herbert West--the ReAnimator--has long sought the secret to perfecting his reagent and break death's hold on mankind once and for all. The key to his success lies in only one place--the forbidden tomb of the Aztec god of death! But disturbing sleeping gods is as troubling (to put it mildly) as raising the uncontrollable, murderous dead... especially when this deity is an ancient enemy of Vampirella of Drakulon!
"I just thought it was a great fit. I was attending a horror convention and talking with people and the idea just popped into my head," said artist Blacky Shepherd. "Within an hour or so I had a rough idea of the story. At first, I thought they were such a natural fit that Dynamite must have already crossed the two characters over!"
"Here's something I think about a lot when it comes to these two characters. When I was a kid reading
Vampirella
magazines at the drug store… and later when I rented
ReAnimator
on VHS for the first time… I felt like I was doing something I shouldn't be," added author Cullen Bunn. "There's something… subversive about both characters, and I want to play that up. I want to lean into that feeling with this book"
"Blacky's pitch was perfect and both Cullen and his work on our
Pumpkinhead
series was fantastic. They took great care of such a classic character that we wanted them to do more
," said Nick Barrucci, CEO and Publisher of Dynamite Entertainment. "Having these two incredibly talented horror aficionados on this crossover event is going to have fans raving."
Dynamite Entertainment first published
ReAnimator
as part of their
Army of Darkness
line
and followed up with a standalone miniseries in 2015.
Vampirella
has been part of Dynamite's core publishing lineup since 2004. First created in 1969,
Vampirella
has thrived for nearly 50 years delivering classic tales of terror in comics, graphic novels, and magazines.
The first issue of
Vampirella vs. ReAnimator
delivers a wide selection of cover variants, providing
fans and retailers a chance to collect the whole set! The cover artwork features the talents of
Johnny Desjardins
(Barbarella),
Stuart Sayger
(
ROM
),
B
lacky Shepherd
(
Voltron
), and a cosplay cover
respectively. Additionally, an Atlas Edition will also be available for fans wishing to have their issue signed by writer Cullen Bunn!