Tim Seeley Delivers Mayhem With Hack/Slash vs. Chaos
Sep 18, 2018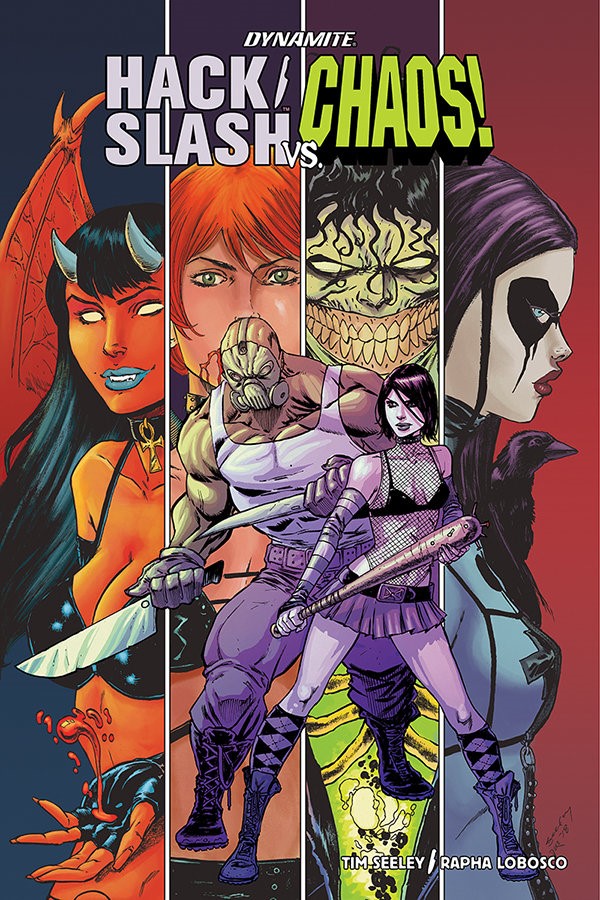 Dynamite Entertainment announces a major crossover event as Tim Seeley returns to his beloved creations to pit them against the world's greatest horror universe and brings back some of the series' most beloved slashers. Alongside artist Rapha Lobosco, Seeley's Hack/Slash battle the Chaos! Comics characters in Hack/Slash vs. Chaos!
In
Hack/Slash vs. Chaos!,
Cassie Hack, Slasher Hunter Supreme, thought she'd gotten rid of those teenager-perforating undead menaces. But now they're suddenly springing back to life! Cassie and Vlad are going to have to team up with mega-death dispenser Evil Ernie to stop the slaughter, putting them on a path that appears to lead through Chastity, the Chosen, and Purgatori.
Commenting on his upcoming crossover, author Tim Seeley remarked, "
I bought the very first Evil Ernie series off the shelf when I was a teenager. It was black and white and gritty looking...it felt like something I wasn't supposed to show anyone else. Perfectly scary and creepy. Which I loved. I still think of
Chaos!
in those terms. These are the comics that you hide under your bed. They're just for you."
"
Tim Seeley is a true modern master of terror. And his script is perfectly paired with Rapha Lobosco's art, which blows us away with every new page
," said Nick Barrucci, CEO and Publisher of Dynamite Entertainment. "
Everything about this book is blood-soaked and beautiful
."
Chaos! Comics were first published in 1994 and ran until 2002. Dynamite Entertainment reignited the characters when they returned to comics in 2014 with Hack/Slash writer Tim Seeley at the helm in the first self-titled series,
Chaos! Comics
.
The first issue of
Hack/Slash vs. Chaos!
delivers a wide selection of cover variants, providing fans and retailers a chance to collect the whole set! The cover artwork features the talents of
Tim Seeley
(
Injustice
),
Craig Cermak
(
Red Team
),
Kyle Strahm
(
Pumpkinhead
), respectively. Additionally, a blank Authentix cover will be available for fans wishing to commission their favorite artist to sketch their best
Hack/Slash
or
Chaos!
Comics character. An Atlas Edition will also be available for fans wishing to have their issue signed by writer Tim Seeley!