Product Changes (12/09)
Dec 09, 2014
PREMIERS

DC ENTERTAINMENT

• Batman Adventures: Mad Love Deluxe Edition HC (NOV140306) will now include bonus features including artist Bruce Timm's complete pencil layouts and color guides. As a result, the book's page count has expanded to 144 and its cover price has changed to $24.99.


MARVEL COMICS

• Cataclysm: Ultimates Last Stand TP (NOV140879, $39.99) will be 440 pages, not 432 pages.

• Death of Wolverine: The Weapon X Program #5 (NOV140834, $3.99) will also have interior art by Iban Soria in addition to Angel Unzueta Galarza, who have both replaced Salvador Larroca.

• Wolverine and the X-Men TP Vol. 2: Death of Wolverine (NOV140885, $17.99) will be 144 pages, not 136 pages, with no change in content.

• Legendary Star-Lord #8 (NOV140800, $3.99) will have interior art by Freddie E. Williams, not Paco Medina.

• Avengers: Rage of Ultron OGN HC (DEC140948, $24.99) will be 112 pages, not 120 pages, with no change in content.

• Wolverines #4 (Reg./Var.: NOV140747 / NOV140748, $3.99) will have interior art by Ariela Kristantina, not Andy Clarke.


COMICS

• The cover artist for Bliss on Tap's I Play the Bad Guy #3 (DEC141164, $3.99) will be Andrew Jerz, not Christina Z.

• Danger Zone has revealed a new cover for Southern Dog TP (MR) (OCT140964, $14.99), shown here.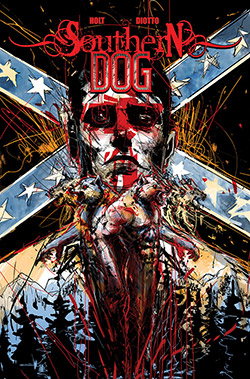 COLLECTIBLES & NOVELTIES

• Due to receiving delays encountered at port facilities, the in-store date for Funko's POP! Guardians of the Galaxy: Dancing Groot Vinyl Figure (JUL148256, $10.99) has changed from January 5 to January 21.