Product Changes (11/19)
Nov 19, 2013
PREMIERS

DARK HORSE COMICS

• Please note that the Clown Fatale miniseries (#1: SEP130038; #2: OCT130072; #3: NOV130021; #4: DEC130117; $3.99 ea.) now carries a Mature Readers (MR) designation.


IMAGE COMICS

• Alex + Ada (#1-2nd Ptg.: OCT138100; #2: OCT130591; #3: NOV130489) has been expanded from 12 issues to 15 issues.


MARVEL COMICS

• The Variant Cover for Amazing X-Men #2 (Reg./Vars.: OCT130721 / OCT130722, $3.99 ea.) will now be by Dale Keown, not Milo Manara, and will be retitledAmazing X-Men #2 Keown Variant. The new cover is shown here.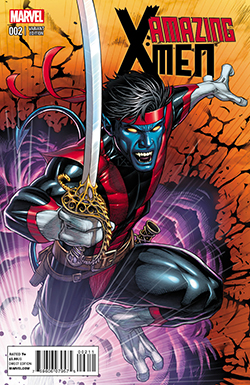 • George Romero's Empire of the Dead -- Act One #1 (Reg./Vars.: NOV130635 / NOV130636 / NOV130637, $3.99) will not have a free digital code.

• Revolutionary War Alpha #1 Variant (NOV130643, $3.99) will have cover art by Barry Kitson, and will be retitledRevolutionary War Alpha #1 Kitson Variant.

• Savage Wolverine #14.NOW Animal Variant ANMN (NOV130605, $3.99) will now have art by Chris Samnee, and will be retitledSavage Wolverine #14.NOW Animal Samnee Variant ANMN.

• Disney Kingdoms: Seekers of the Weird #1 (NOV130638 / NOV130639 / NOV130640 / NOV130641, $3.99 ea.) will not have a free digital code.

• Indestructible Hulk #18.INH (NOV130619, $3.99) will be Rated T, not T+.

• Thunderbolts #20.NOW Animal Variant ANMN (NOV130598, $2.99) will be part of the Animal Variant program, not an Artist Variant, and will be retitledThunderbolts #20.NOW Animal Cook Variant ANMN.

• Wolverine MAX #15 (MR) (NOV130698, $3.99) will now have interior art by Felix Ruiz, not Roland Boschi.

• Iron Man #20.INH (NOV130620, $3.99) will now have interior artby Augustin Padilla, not by Joe Bennet.

• Night of Living Deadpool #2 (NOV130697, $3.99) will arrive in stores January 29. This item was on the Marvel Previews Catalog checklist, but was not solicited in the catalog.

• Kick-Ass 3 #7 (MR) (Reg./Var.: NOV130702 / NOV130703 / SEP138353, $3.99 ea.) will now be 40 pages, not 32 pages.


COMICS

• Archie Comics has updated the Regular Cover art (shown here), creator credits, and synopsis for Betty & Veronica #270, to be solicited in the December PREVIEWS: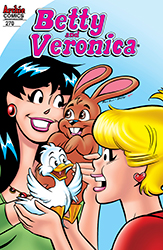 BETTY & VERONICA #270
(W) Angelo DeCesare, George Gladir (A) Jeff Shultz, Bob Smith (CA) Regular: Fernando Ruiz, Bob Smith; Chibi Tea Party Variant Cover: Ryan Jampole, Gary Martin
Excited for a new Betty & Veronica story? How about four new B&V tales? First, in "The Minds of Betty and Veronica," we get an inside look at what the two BFFs really think of each other—and their thoughts may surprise you! Then in "The Wish," find out what happens when Betty finally gets Archie all to herself! Next in "The Shopping Scene," can Veronica turn her shopping haul into profit? This time her spending spree may just help Daddykins' wallet! Finally, in "The Winning Float," it's girls vs. boys! Find out if the gals of Riverdale have what it takes to make the best float at the Homecoming game!