Product Changes (2/15)
Feb 15, 2011
PREMIERS
DC COMICS
• Zatanna #11 and #12 now have new contents as follows:

ZATANNA #11 (JAN110315, $2.99)
Written by Paul Dini; art by Jamal Igle and Jon Sibal; cover by Adam Hughes
Stripped of her powers, her body, and a mind of her own, and trapped under glass for all eternity - the curse her father placed on murderous puppeteer Oscar Hampel has fallen on Zatanna, and there's no escaping it! Or will help come to Zatanna from a most unlikely source — wearing most unlikely clothes? The conclusion of "Pupaphobia" will leave your head spinning!

Please Note: The contents originally solicited for issue #11 now will appear in issue #13, to be solicited in the March PREVIEWS.

ZATANNA #12 (FEB110189, $2.99)
Written by Matthew Sturges; art by Stephane Roux; cover by Amanda Conner
Zatanna's seen her share of strange magical artifacts — though a sword that cuts backwards through time is a new one, that's for sure! A rowdy roughneck named Backslash is using that very sword - and an enslaved fairy — to cut a bloody path through her beloved San Francisco, but how can she stop him when he can undo any attack with a mere wave of his hand? Featuring a crackling script by guest writer Matthew Sturges and art by original series artist Stephane Roux!

IMAGE COMICS
• Chew Script Book (JAN110598) will now be 32 pages at $3.99, not 48 pages at $4.99.

• Top Cow Productions' Witchblade #142 (AUG100517, $2.99) & #143 (SEP100536, $2.99) now contain a two-part story arc by series writer Ron Marz and guest artist Matthew Dow Smith. The story is described as follows:
When Patrick travels to upstate New York to visit an old friend, he ends up helping a local rookie police officer transport a deadly mob assassin back to New York City. The killer, Vincent "No Prints" Petramale, claims to have never killed anyone, but when circumstances go horribly wrong, Gleason has to figure out who the real threat is, and fast!

MARVELCOMICS
• Fear Itself #1 (FEB110500, $3.99) will now have a Regular Cover by Steve McNiven, shown here.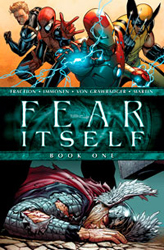 Additionally, this issue's McNiven Variant (FEB110502, $3.99) will now be a second variant cover drawn by Stuart Immonen and retitled Fear Itself #1 Immonen Variant B.
 
• Invaders Now HC (FEB110650D) will be 128 pages, not 120 pages, and will carry a cover price of $24.99, not $29.99.
  
• FF #1 (JAN110748, $3.99) will now have a cover by Steve Epting, not Daniel Acuña. Additionally, the issue's Epting Variant (JAN110752, $3.99) will now be drawn by Acuña and retitled FF #1 Acuña Variant, and the FF #1 Classic Artist Variant (JAN110751, $3.99) will have cover art by Stan Goldberg and has been retitled FF#1 Goldberg Variant.
 
•  Uncanny X-Men #534 (Reg.: JAN110779, Var.: DEC108200, $3.99 ea.) will now be 48 pages and include the full issue of Avengers Academy #7 as a backup.  The price remains $3.99.
 
•  Ultimate Comics Spider-Man #155 Komarck Variant (DEC108038, $3.99) is canceled.

• The Fear Itself Postcards Bundle (NOV108188, $5.00) is canceled.

FREE COMIC BOOK DAY
•  NBM/Papercutz has updated the solicitation and cover image for Geronimo Stilton & The Smurfs (JAN110010), the publisher's Free Comic Book Day 2011 Gold title. The book's Geronimo Stilton story has been changed from "Play it Again, Mozart!" to "Dinosaurs in Action." In the new story, "Geronimo Stilton encounters 'Dinosaurs in Action,' as he travels 140 million years back in time to save his friend Professor Paws von Volt." The Smurfs story in this title remains unchanged.