Product Changes (2/8)
Feb 08, 2011
PREMIERS
DC COMICS
• R.E.B.E.L.S. #26 (JAN110309, $2.99), originally solicited with art by Claude St. Aubin & Scott Hanna, will now have art by Daniel HDR & Hanna.

IMAGE COMICS
• Image has released updated cover art to The Intrepids #1 (JAN110555, $2.99), formerly Rat Bastards #1, shown here.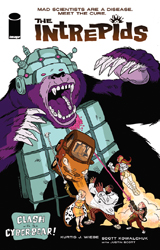 MARVEL COMICS
• Wolverine & Jubilee #1 2nd Ptg. Coipel Variant (DEC108142, $2.99) is cancelled. 

• Vampire #1 (FEB110543, $3.99) has been retitled Throne of Blood: Birth of a Vampire.

• Herc #1 (Reg.: FEB110581, Var.: FEB110582; $3.99 ea.) and #2 (FEB110583, $2.99) will have art by Neil Edwards, not Georges Jeanty.
 
• In addition to Greg Land, Uncanny X-Men #534 (JAN110779, $3.99) will also have art by Paul Renaud.
 
• X-Men Origins II HC (JAN110818, $24.99) will carry a Parental Advisory, not Rated A.

• March Sneak Peeks (DEC108012) is canceled.   

• Hulk HC Vol. 2 (NOV100639, $29.99) has been retitled Hulk: Hulk No More HC and will run 320 pages, not 336 pages.   

COMICS
• Ape Entertainment's Kung Fu Panda 2 Movie Prequel TP (FEB110713) was erroneously solicited at $5.95. Its correct price is $6.95.

TRADING CARDS
• The Topps Company's Topps 2011 Gypsy Queen Baseball Trading Cards (FEB111332) will now contain a special "Royal Jewels" card featuring Prince William and Kate Middleton (shown here), in celebration of their wedding on April 29 shortly after Gypsy Jewels is set to ship. Also, the series' base set, solicited as being 450 cards, will now be 350 cards.