Collector's Corner: Interview with Patrick Tolman
Oct 15, 2018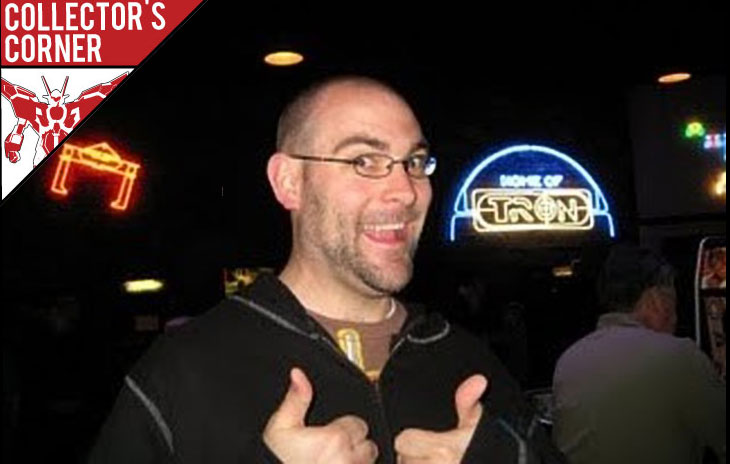 PREVIEWSworld ToyChest proudly introduces Collector's Corner! Here, we'll highlight anyone and everyone with a love of toys and collectibles. Whether it's a hardcore collector with no room on their display case or a veteran sculptor who makes a living in the industry, we'll talk to anyone who lives and breathes toys!
This week, we talk to Patrick Tolman, a high school social studies teacher and toy collector!
Patrick talks about what toys he collects, his favorite pieces and his most wanted toy.
---
PROVIDE US WITH A BIO ABOUT YOURSELF:
My name is Patrick Tolman. I live in Spanish Fork, Utah. I am a high school Social Studies teacher. My wife and I are geeks together and both have collections. I have 4 children (a boy and three girls) who all have their own collections of things they love. My major geek love is Star Wars. I read everything Star Wars I can get my hands on and just eat up everything related to it. I spend a lot of my free time watching movies. I have loved that Utah got its own convention (Fan X formerly Salt Lake Comic Con) a few years ago and I have attended every one. The best part of these conventions is the toy booths!
WHEN DID YOU START COLLECTING?
My current toy collection really began in 1995 when I was a freshman in high school and Kenner released the Power of the Force toys. This new release of Star Wars figures opened the door into the collecting world for me. It didn't help that I lived a few blocks from a Toys R Us!
WHAT SPURRED YOUR INTEREST IN TOY COLLECTING?
I grew up with 2 older brothers who passed down all of their toys to me (namely GI Joe, Transformers, He-Man, and Star Wars toys). I also had a myriad of other toys. In Junior High my parents had a garage sale to help pay for a trip to California and they convinced me to sell nearly all my toys so I could have money to spend on the trip. I think the hole that was left in my life from this garage sale and just the love I maintained for these toys is the impetus for my toy collecting.
WHAT LINES/FRANCHISES DO YOU COLLECT?
I collect Star Wars toys. However this toy universe is to vast that now I really just focus on the things here and there that really catch my eye. He-man, Transformers, Lego and GI Joe are also big parts of my collection. The largest part of my collection currently are minimates. I have well over a thousand of them from many different licenses, but mostly from the Marvel Universe. I love Lego minifigures and have a large collection of these. My collection is very eclectic and covers a lot of ground from vintage toys from my childhood to modern toys that simply look cool. There really isn't one thing that defines what I add to my collection.
HOW DID YOU ORGANIZE YOUR DISPLAY?
My "toy room" is organized based on what goes together from different universes (Star Wars, He-Man, Transformers, Ninja Turtles, GI Joe etc) or simply what looks good together. The biggest part of how my room is organized is space. Things are always getting shuffled and rearranged based on what space I have available.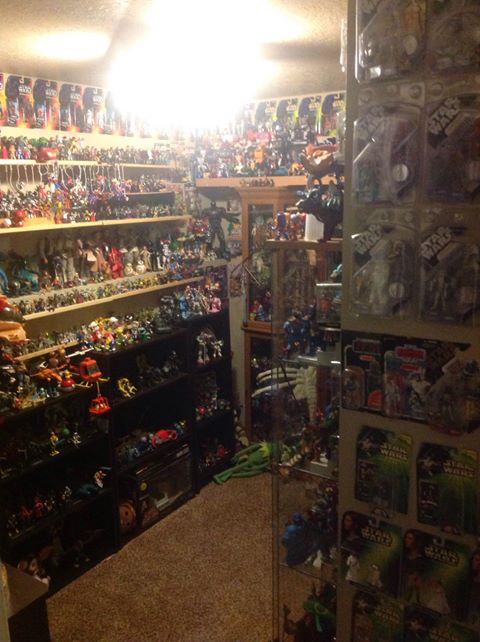 WHAT ARE YOUR FAVORITE PIECES?
My favorite toy is my Masterpiece Soundwave. I remember the day I found it at Toys R Us crystal clear. It is the most excited I have ever been to find a toy. It is my favorite character from Transformers and this is the ultimate version of the character. I love the new Voltron '84 that my wife gave me for my birthday earlier this year. I love all my Masters of the Universe Classics Figures. My Bandai Movie Realization Darth Vader and Boba Fett, and Slave Leia and Roron Corrob Gentle Giant Maquettes are my favorite Star Wars pieces. That is a difficult question to definitively answer!
WHAT IS YOUR 'HOLY GRAIL' COLLECTIBLE?
I would buy a complete collection of the 92 Vintage Kenner Star Wars figures. I would buy all of the Masterpiece Transformers, and pretty much all of the Star Wars collectibles that Bandai makes. Then I would go back and replace all the toys I had as a kid that got sold at the garage sale (I have a list that I check things off of when I do get them)
WHAT ADVICE WOULD YOU GIVE TO TOY COLLECTORS?
Find a way to share your love of toys with other people. One of my favorite things is to look at other people's collections!
HOW CAN PEOPLE FIND YOU ONLINE?
I have a blog that I try to keep up to date with the toys I add to my collection at www.jeditolmantoys.blogspot.com . I am gambitron on the minimatemultiverse.com. Those are my two main toy related presences online.