Collector's Corner: Interview with Dave Scheidt
May 28, 2018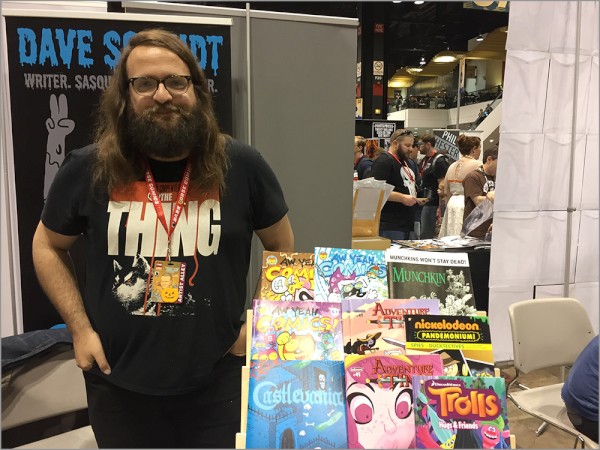 PREVIEWSworld ToyChest proudly introduces Collector's Corner! Here, we'll highlight anyone and everyone with a love of toys and collectibles. Whether it's a hardcore collector with no room on their display case or a veteran sculptor who makes a living in the industry, we'll talk to anyone who lives and breathes toys!
This week, we talked to Dave Scheidt, a comic book writer and hardcore toy collector! Dave is a Chicago resident whose titles include Avatar: The Last Airbender, Dreamworks Trolls, Adventure Time and more.
Learn how Dave got into toy collecting here.
---
WHEN DID YOU BOTH START COLLECTING?
I've always been into toys as a kid and casually as an adult but last year I got really into Godzilla and kaiju films and started spending all my money on monsters toys. I'm in DEEP. I can't get enough!
WHAT SPURRED YOU INTEREST IN TOY COLLECTING?
I bought a copy of the Godzilla Criterion Collection blu-ray and got the fever. I ended up watching a ton of the movies and falling in love with them. There's actually a Godzilla convention right outside of Chicago called G-Fest that's held in July and bought my first Japanese sofubi from a company called M1Go. I also have a ton of friends who are hardcore into toys and they should all be ashamed of what they've helped create. They've created a..MONSTER (sorry
WHY DID YOU START COLLECTING KAIJU TOYS?
Believe it or not I bought my first one last year. That convention G-Fest has an incredible dealers rooms that is just jam packed with amazing toys. I felt like I was going to pass out the first time I walked in there. It's monster heaven.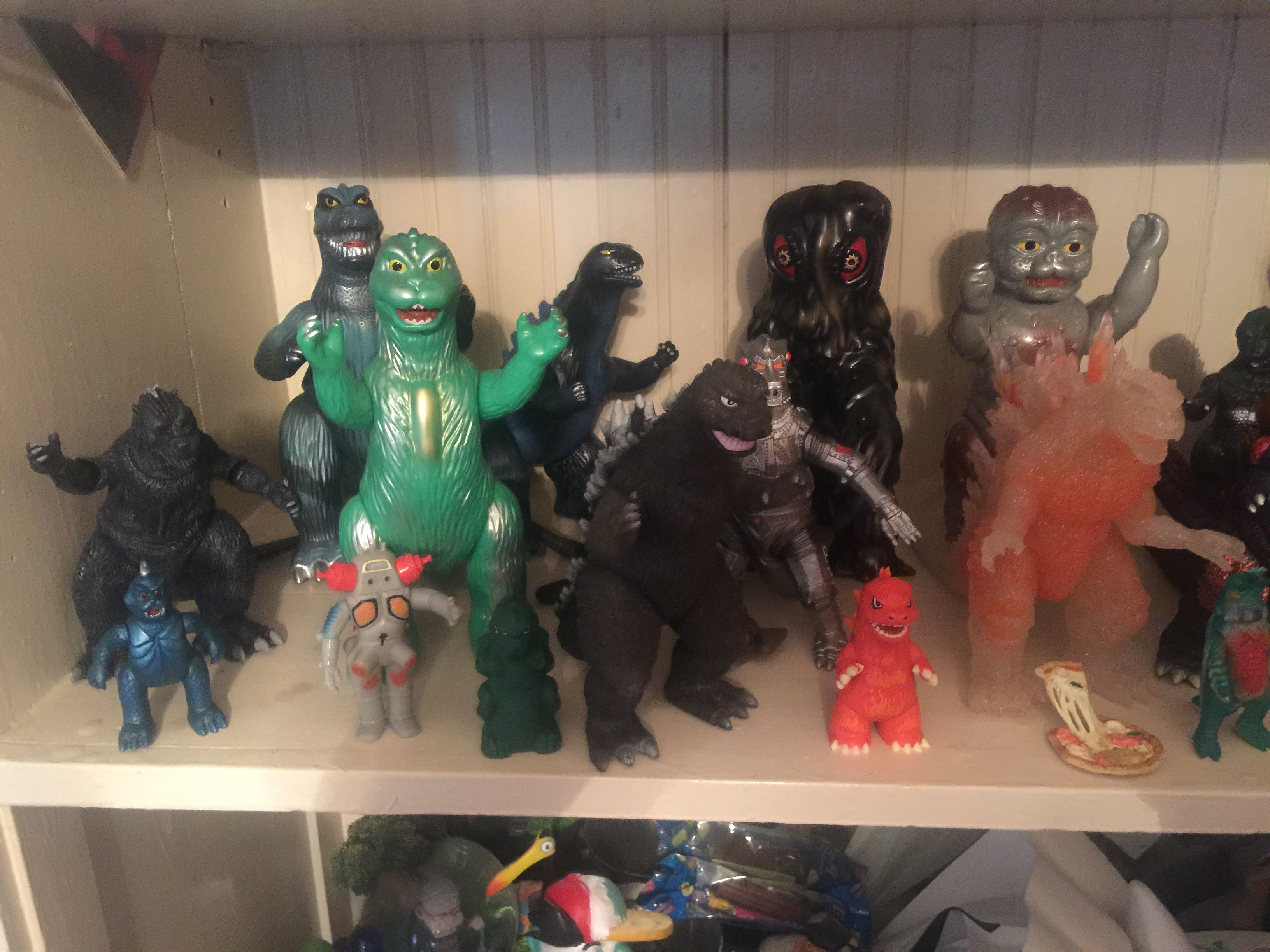 WHAT ARE YOUR FAVORITE PIECES?
In Invasion of Astro-Monster (1965) Godzilla beats the crap out of Ghirodah and does this crazy dance afterwards and it's so funny and weird and amazing. M1Go made a sofubi of him where you can pose him like he's dancing and it's amazing. He's so happy and full of life. He makes me want to be a better person. I also love any toy of Minilla aka Minya who is Godzilla's son and a beautiful boy.
WHAT IS YOUR 'HOLY GRAIL' COLLECTIBLE?
I would LOVE to have some vintage Hedorah toys. He's my favorite Godzilla kaiju from my favorite movie. How can you not love a giant, psychedelic sludge monster!
IF YOU COULD HAVE ONE CHARACTER FROM ANY OF YOUR COMIC BOOKS BE TURNED INTO A TOY, WHICH ONE WOULD IT BE?
Obviously I would LOVE Wrapped Up toys. Scoot McMahon (the co-creator and artist of Wrapped Up) always talk about how cool that would be.
WHAT ADVICE WOULD YOU GIVE TO TOY COLLECTORS?
Intergrate yourself into a toy collector community! Make friends with people who like to collect the same stuff as you. That way you have friends who can keep an eye out on the stuff you are looking for and vice-versa. Ebay can be cool but you are much better off buying toys directly from other collectors and comic shops. There's a few really good Godzilla collector groups on Facebook where I've found a lot of great stuff. If you are looking for Godzilla stuff you can order some great toys from your local comic shop. There's a great line called Vinyl Wars that is reproductions of vintage japanese sofubi that I love. You can also get cool X-Plus and SHMonster Arts toys there too! Get them quick though because they make limited runs and people flip them right away.
HOW CAN PEOPLE FIND YOU ONLINE?
I'm on both twitter and instagram at @davescheidt. I post most of my toys and comic stuff on there also you can check out my website at www.davescheidt.com