Women in Comics Month: Interview with Mairghread Scott
Mar 01, 2017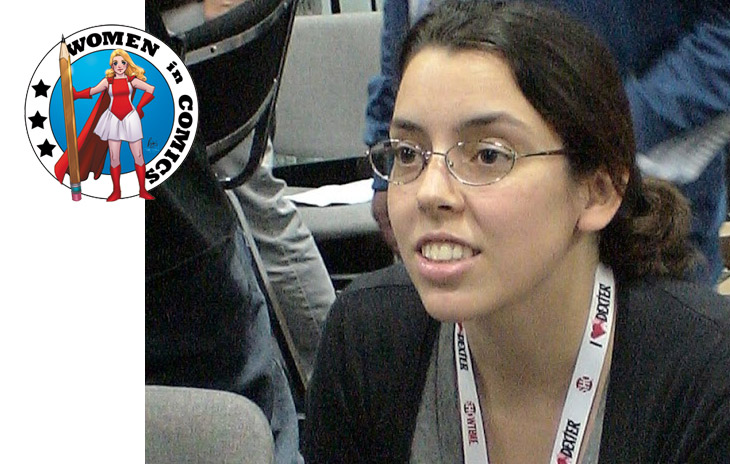 In honor of Women in Comics Month this March, PREVIEWSworld talks with writer Mairghread Scott!

*************

PREVIEWSworld: Tell us a little bit about yourself! What are you currently working on?
Mairghread Scott: I'm a writer for Transformers: Till All Are One and am currently spearheading a big event over at IDW that should come out in the 2nd half of 2017. I'm also working on the TV side for Marvel's Guardians of the Galaxy cartoon.
PREVIEWSworld: How long have you been working with sequential art? What titles, companies, and creators have you worked with over your time in comics?
Mairghread Scott: I've been writing comics for about four years for IDW (several Transformers titles and an issue in the new Star Trek: Waypoint anthology), BOOM! (my creator-owned graphic novel Toil and Trouble), Dynamite (with their Swords of Sorrow event), Marvel (two different Guardians of the Galaxy mini-series) and DC Comics (included in their Wonder Woman 75th anniversary anthology). I've been able to work with a lot of talented artists including: Sara Pitre-Durocher, Kelly & Nichole Matthews and Riley Rossmo.
PREVIEWSworld: Did you have a mentor or hero in the industry that inspired you to pursue a career in comics?
Mairghread Scott: There are a lot of female creators who have lent me a hand over the years, but I want to talk about one of my earliest heroes, Ashley Wood. I was in high school and I'd been reading comics but there were so few female creators that even though I wanted to write comics, I didn't think I'd be allowed to write the kind I wanted to. Then I found "Lore" and Ashley's moody, surrealist artwork completely inspired me. I thought, "Here's a woman who isn't stuck making 'girlie' art! If she can make it in comics, I can too!"
Of course, I found out later Ashley Wood is a man, but by then I was old enough that I didn't need him to "blaze the trail" for me anymore. There really is truth to, "If you can see it, you can be it." If I hadn't miss-gendered Ashley Wood in high school I probably wouldn't be working in comics today.
PREVIEWSworld: In your opinion, how has the comic book industry evolved in terms of gender?
Mairghread Scott: There's a lot of heat and very little light that's been added to the subject. You're definitely seeing more high-profile creators of other mediums (television writers, novelists, etc) being brought in to do a line or two, and lot of diverse characters being written by old guard creators, but that usually translates into good press for the company and little change in the actual diversity of the talent pool long-term. Real change has been much slower in coming, but then that's how change goes.
PREVIEWSworld: What challenges do you see surrounding women in comics and how could people of all genders go about addressing them?
Mairghread Scott: Women in comics are seen as women first, then creators. It's a great marketing tool at times because every company wants to look inclusive, but while it can help you get in, it often stops you from moving up. There's still the sense that women are inherently political or divisive and therefore inherently risky. Real change will come when there are more female writers/artists on male-character books, the heavy-hitting titles.
How do we get this? The key is editors. A diverse pool of assistant editors is helpful, but a diverse pool of editors is more helpful. Until more women have the power to hire women, I think we'll still be viewed with that thin layer of skepticism we are now.
PREVIEWSworld: Where do you see yourself in the industry in the next ten years and what projects would you like to work on that you haven't yet?
Mairghread Scott: I'd like to keep writing and working on the kind of political intrigue and thriller storylines I enjoy. I also love writing characters with that kind of quiet hope I think defines real bravery: Captain America, Superman, etc. I love characters that aren't ignorant of the darker sides of life, but that keep actively choosing to see the best in the world and who choose to keep an open heart and an open hand.
PREVIEWSworld: If you could give advice to any aspiring editors, executives, writers, or artists, what would you tell them?
Mairghread Scott: When in doubt, be honest. Since everything in comics is done remotely, it's easy to drop off the grid when there's a problem or get nervous about asking too many questions. (No one wants to look stupid at a new job.) But the last thing an editor wants is to be waiting for a script and not know why they don't have it. If you get stuck, if you need more time, if you have a question, ask!
PREVIEWSworld: And lastly, are there any up-and-coming women creators who you would recommend readers check out?
Mairghread Scott: On the writing side, Jody Houser is doing some really cool work over on Faith and Mother Panic. On the art side, I wake up every morning surprised that no one's stolen the artist on Till All Are One, Sara Pitre-Durocher. The fact that she can express a huge range of emotions for our characters (many of whom don't really have faces) is impressive.