Women in Comics Month: Interview with Kata Kane
Mar 01, 2017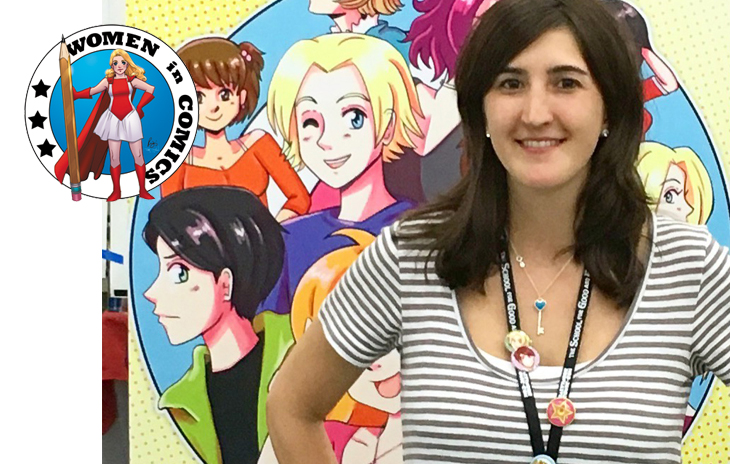 In honor of Women in Comics Month this March, PREVIEWSworld talks with comic book artist Kata Kane!
*************

PREVIEWSworld: Tell us a little bit about yourself! What are you currently working on?
Kata Kane: I'm a comic book artist, illustrator and graphic designer living in Baltimore. I'm always working on my self-published shoujo manga series "Altar Girl" (altar-girl.com), but I'm stoked to currently be working as artist on two different OGNs for Charmz out later this year. I'm collaborating on "GFFs: Ghost Friends Forever" with Monica Gallagher, and drawing "Ana and the Cosmic Race" with Amy Chu as writer.
PREVIEWSworld: How long have you been working with sequential art? What titles, companies, and creators have you worked with over your time in comics?
Kata Kane: I've been pursuing comics professionally since 2012, but was drawing comics and making illustrated books even as a little kid. The first version of my webcomic "Altar Girl" went online in 2002 when I was still a teenager. As a professional, I've worked on a lot of anthologies and creator-owned titles, in addition to working as inker on an educational comic for a nonprofit. Most recently I contributed original comics to 1001 Knights, Dirty Diamonds, and Ladies Night Anthology.
PREVIEWSworld: Did you have a mentor or hero in the industry that inspired you to pursue a career in comics?
Kata Kane: Chynna Clugston's early work inspired me to think more realistically about a future career. Her comic "Blue Monday" made me realize it's okay to have a manga-influenced style; I just had to own it. I met Kelly Sue DeConnick at a convention last year when we tabled in the same AA block. I asked her for advice about being a mom working in the industry, and I'll never forget what she said: "It's f*ing hard, and don't let anybody tell you it's not. But you can do it." It's been my mantra and motivation on rough days. As for mentors: she's going to laugh at me, but Monica Gallagher has continuously given me helpful advice and confidence. It was coincidence and maybe even luck when we were asked to pitch for Charmz, and we've had such a blast collaborating on "GFFs." I'm grateful we're officially working on a series together!
PREVIEWSworld: In your opinion, how has the comic book industry evolved in terms of gender?
Kata Kane: There's a lot more visibility for female and LGBTQ fans, readers, and now creators, who've really always been here. At least we've got a dialogue going, so let's make sure we continue to listen.
PREVIEWSworld: What challenges do you see surrounding women in comics and how could people of all genders go about addressing them?
Kata Kane: We need to be better about calling out harassment for what it is, especially when peers in the industry echo it, either online or at conventions. It should be denounced from the top. Remaining silent condones anyone who acts not only unprofessional, but shockingly harmful to those who are marginalized in the industry.
PREVIEWSworld: Where do you see yourself in the industry in the next ten years and what projects would you like to work on that you haven't yet?
Kata Kane: I hope I'll have published the entire planned Altar Girl series! My goal is to keep striking that balance between industry and self-published projects. I want to work on projects that are fun and positive, all-ages/YA, and easily accessible for girl readers of any type. I'd love to draw a fun manga-style series about Supergirl trying to balance her work life, love life, and duties as a hero. She'd totally have cute transformation sequences like Sailor Moon. I'd love to work on "Buffy: The High School Years" but those books are already total perfection.
PREVIEWSworld: If you could give advice to any aspiring editors, executives, writers, or artists, what would you tell them?
Kata Kane: Stay ambitious! Keep experimenting with your work, and don't be afraid to try new things or reach out to your peers when you need advice.
PREVIEWSworld: And lastly, are there any up-and-coming women creators who you would recommend readers check out
Kata Kane: There are so many awesome women doing their own art and original stories in webcomics right now who are getting published too: Shauna Grant, K. Lynn Smith, and Melody Often are a few I really admire for each of their totally unique styles.