The Mask Goes All-Ages
Aug 25, 2014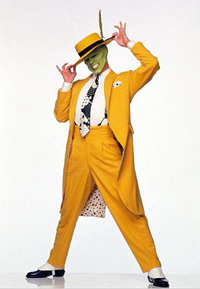 Created by Dark Horse President and Publisher Mike Richardson in 1982, The Mask came into its own with the comics by John Arcudi and Doug Mahnke. The character later went nuclear with the mainstream press attention given to The Mask movie starring comedian Jim Carrey. And now with Art Baltazar and Franco, The Mask is about to undergo yet another facelift. This time, it's getting the Itty Bitty treatment.
Yes, the green-faced lunatic is the latest character to receive the all-ages zaniness that Art Baltazar and Franco bring to their work in Dark Horse Comics' new series, Itty Bitty Comics: The Mask (SEP140048)!
Zookeeper Herman Shazbert buys a present for his wife — a mysterious mask — and soon the world of Shazbert, his family, and the zoo animals in his charge is turned upside down by the mayhem of the mask!
It's zany all-ages fun as only Baltazar and Franco can muster in Dark Horse Comics' Itty Bitty Comics: The Mask, which you can get on November 12th at your local comic shop!