Guns, Swords, Bounties and Black Ops in Blaze Brothers GN
Aug 19, 2014
Blaze Brothers Volume 1 (JUL140427) follows the story of two orphaned half-brothers - Jack and Billy Blaze - who are fighting for their lives after an enormous bounty is put on their heads by a Japanese crime lord. This action-packed story is written by Vernon Whitlock III and Matthew Scott Krentz for IDW Publishing.
PREVIEWSworld spoke with Krentz about this new graphic novel series coming to your local comic shop on September 24th!

************

PREVIEWSworld: Your website describes Blaze Brothers as "Wanted meets Kill Bill meets The Boondock Saints." What is it about these stories that inspired you?
Matthew Scott Krentz: Kill Bill: The sheer magnitude of revenge and what obstacles a person will endure to attain it. There is a Hero's Journey as well as an unmistakable style woven into the fabric of this story, and Vernon and I focus and pride ourselves with our ability to combine and mix old-school and new-school philosophies and genres together in a very stylistic manner, much like Tarantino does in Kill Bill.
As far as The Boondock Saints, we love the crazy dialogue and the relationships between the brothers. The love and trust they have for each other is unparalleled, while completely unorthodox. It's awesome! Wanted (The Graphic Novel): the evolution of a hero and the road he takes to gain that status. It was original, twisted, and graphic with an unbelievable female force in the sultry, Halle Berry-like Fox!
Blaze Brothers has an amazing female character named, Cicada, who goes through a very intense and spiritual, Jason Bourne-like journey to re-discover herself, and once she does, she a force to be reckoned with! We love amazingly complex, skilled and killer female characters!
PREVIEWSworld: Obviously there's a lot of over-the-top action and violence in this story, but what else can people look forward to in Blaze Brothers?
Matthew Scott Krentz: Blaze Brothers is a deep, multi-layered saga that is filled with tragedy, love, betrayal and redemption. It is so much more than meets the eye. We pride ourselves on creating multicultural characters, infused with a heavy Asian background. Infused within the hard core martial arts and combat is a story with very colorful and unique characters who possess the kind of great witty dialogue one would find from Elmore Leonard, Mark Millar and Tarantino. Along with all the over-the-top action and hyper-violence is a story shrouded with family honor and loyalty, and the will to achieve personal greatness.
PREVIEWSworld: It appears that the Blaze Brothers have a somewhat tenuous relationship. Did you draw on any particular action-movie partnerships as inspiration for this? Is their bickering eventually going to come back to bite them?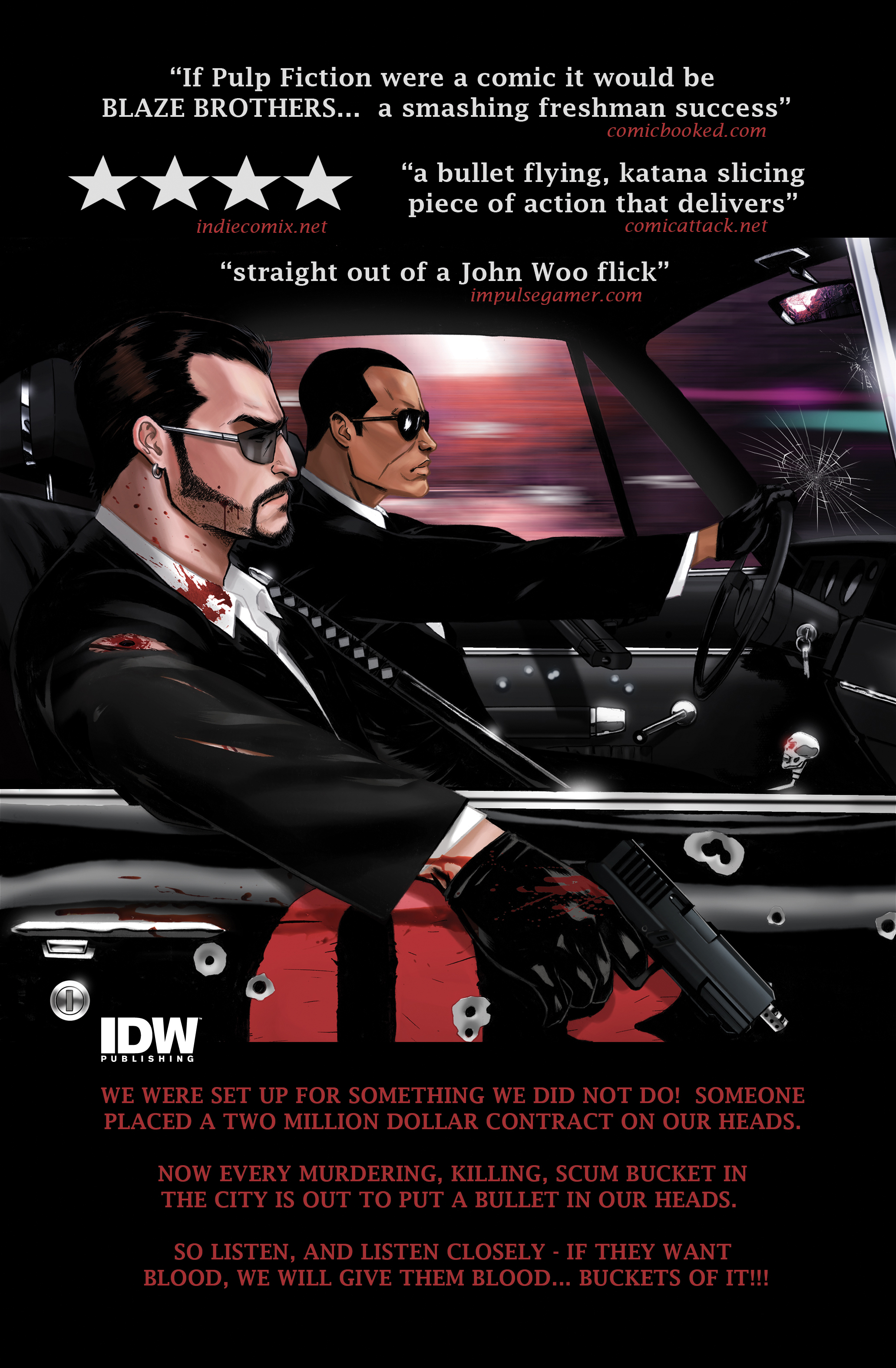 Matthew Scott Krentz: I don't know that we deliberately drew on any specific action movie partnerships, but when you bring up the question, I would say films such as these would have to be influences, whether consciously or subconsciously; Pulp Fiction, The Boondock Saints and Bad Boys. What makes Jack and Billy Blaze's relationship so interesting (besides the fact that they are half-brothers), is that they are polar opposites both mentally and physically. Jack Blaze, 6 foot 3 inches, 235 pounds, a straight-laced and reserved guy with a more traditional honor and integrity about himself, who plays by the rules. He wants to please his father figure, Master Chen, because of his more reverent and respectful nature.
While his younger half-brother, Billy Blaze, is more of a loose cannon, pit bull-type of individual who is more likely to challenge and get his butt kicked by Master Chen: Billy is 5 foot 9 inches, less respectful, surly, very street-oriented with his slicked back hair and slang-talk'n, hard-walk'n, get it done by any means necessary type of attitude. He is a shoot and punch first kind of guy...
PREVIEWSworld: Are there any plans to continue this story past the first volume?
Matthew Scott Krentz: Volume #2, also a 104-page graphic novel, is already complete and will come quickly on the heels of Volume 1. We have a killer Glenn Fabry cover that we will be using for the back cover of Volume 1. It goes along with our "Old-School/New School" theme.
Click on the preview pages below to get a closer look and don't forget to order your copy today at your local comic book shop!