Misguided Duos and Hobos Collide in The Delinquents
Aug 18, 2014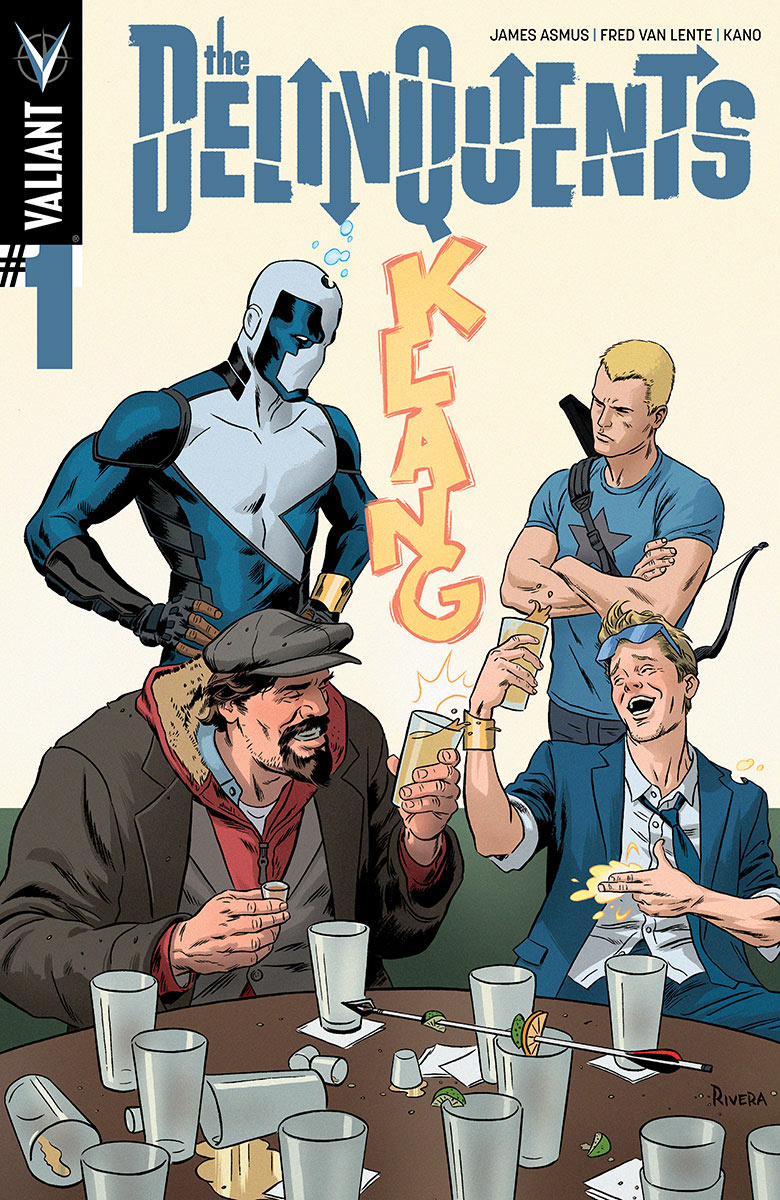 In what is being hailed as "the world's worst team-up," a couple of duos cross paths for the first time. Quantum and Woody have to work with Archer and Armstrong in a race across the country in The Delinquents (JUN141491), a limited series starting this August courtesy of Valiant Entertainment.

PREVIEWSworld talked with the co-writers of this magnificent mashup, James Asmus and Fred Van Lente, about their experiences working on this title.

************

PREVIEWSworld: Other characters from the Valiant Universe have crossed paths before. Guess it was only a matter of time before these four got together?

James Asmus: Valiant definitely wanted to give us room on Quantum and Woody to define ourselves before getting mixed up with the other kids. But Archer and Armstrong has always been the perfect title to pair with. Both books tackle wild adventure with character-centric humor.

Fred Van Lente: People have been clamoring for it since Quantum and Woody from James and Tom Fowler got announced, so this is definitely a case of giving readers what they want -- creators too!

PREVIEWSworld: In the preview, we see Armstrong receiving a map from hobo royalty. How is this key in bringing the two duos together?

Fred Van Lente: It's a little known historical fact that the hobo lifestyle was originally conceived as way to facilitate comic book crossovers. Considering hoboing began a few years before the invention of the comic book, it was particularly prescient on their part. "Riding the rails" was just a euphemism for "boosting the sales charts."

James Asmus: What you don't see in the preview pages is that the map itself was soon torn in twain! Years later, each duo is armed (cheeked?) with one half as they're coaxed toward lost Treasure of the Hobos. But while Quantum and Woody are hired to get the prize - Armstrong had agreed to keep it from falling into the wrong hands. And of course, Quantum and Woody are nothing if not "wrong."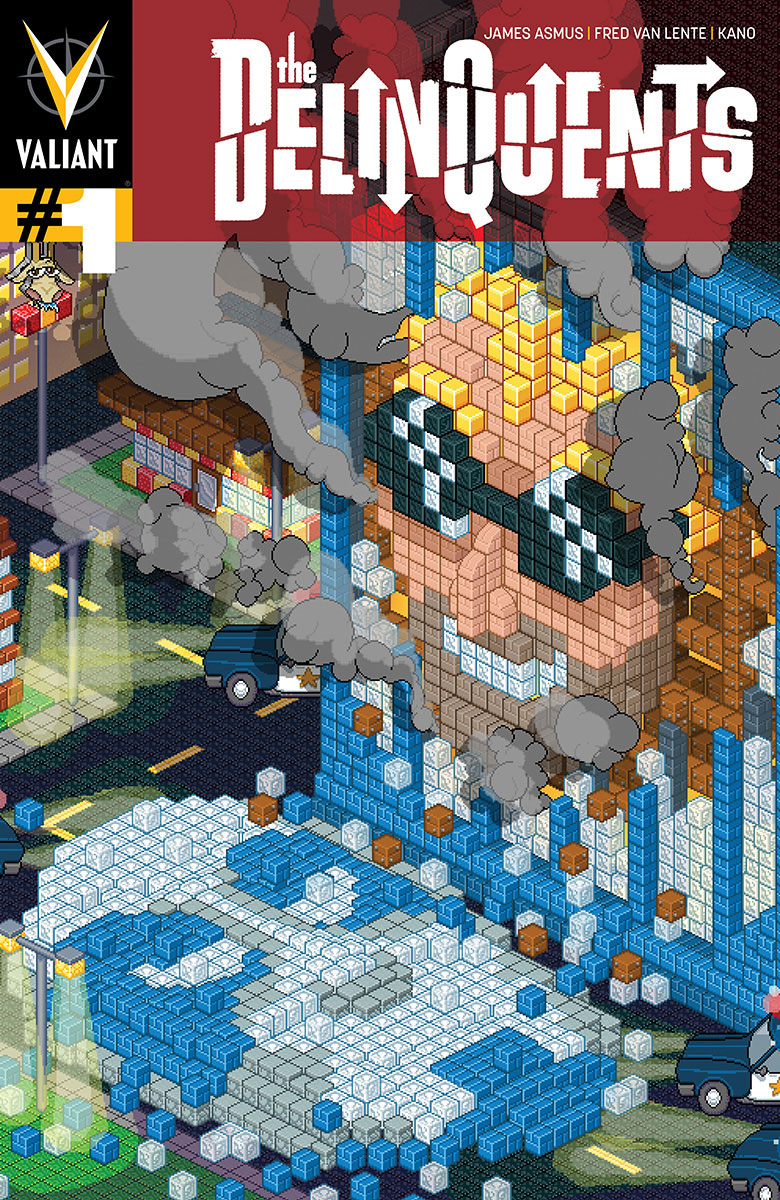 PREVIEWSworld: What more can you tease about the disastrous cross-country adventure that happens in The Delinquents?

James Asmus: The keys to the final treasure's location were left around the country in "Hobo Code" - which, by the way, is a very real thing. So our guys have to essentially follow in the old Hobo lifestyle's footprints - except in the ensuing years, the trains you hop are way faster, the farms you sneak onto are armed to the teeth, and genetic modification of our foods mean that you might find something VERY unexpected in the barn...

Fred Van Lente: The fun thing for me are the surprising character interactions. You'd think Woody and Armstrong would be natural drinking buddies, and Quantum and Archer would be brothers in anal-retention, but maybe not. Humor is about surprise, and James and I definitely have some cool surprises in store.

PREVIEWSworld: Both of you have written team-up stories previously. Did you pull from these experiences for this specific story?

Fred Van Lente: Every series is characters interacting, whether it's a solo hero and his supporting cast or a duo. Here we have a quartet, which I'm not sure I've written so I was doing the kids version of the Richards family. I've discovered four is about my limit for main characters. Then things start to get a bit messy in my head.

James Asmus: Yes and no. The characters themselves are so rich and delightful to play with that we mostly had an overabundance of impulses and ideas unique to these guys. But you certainly try to be aware of all the tropes and worn-out elements of cross-overs and look at your own work as off-limits, driving you to find new approaches and story beats.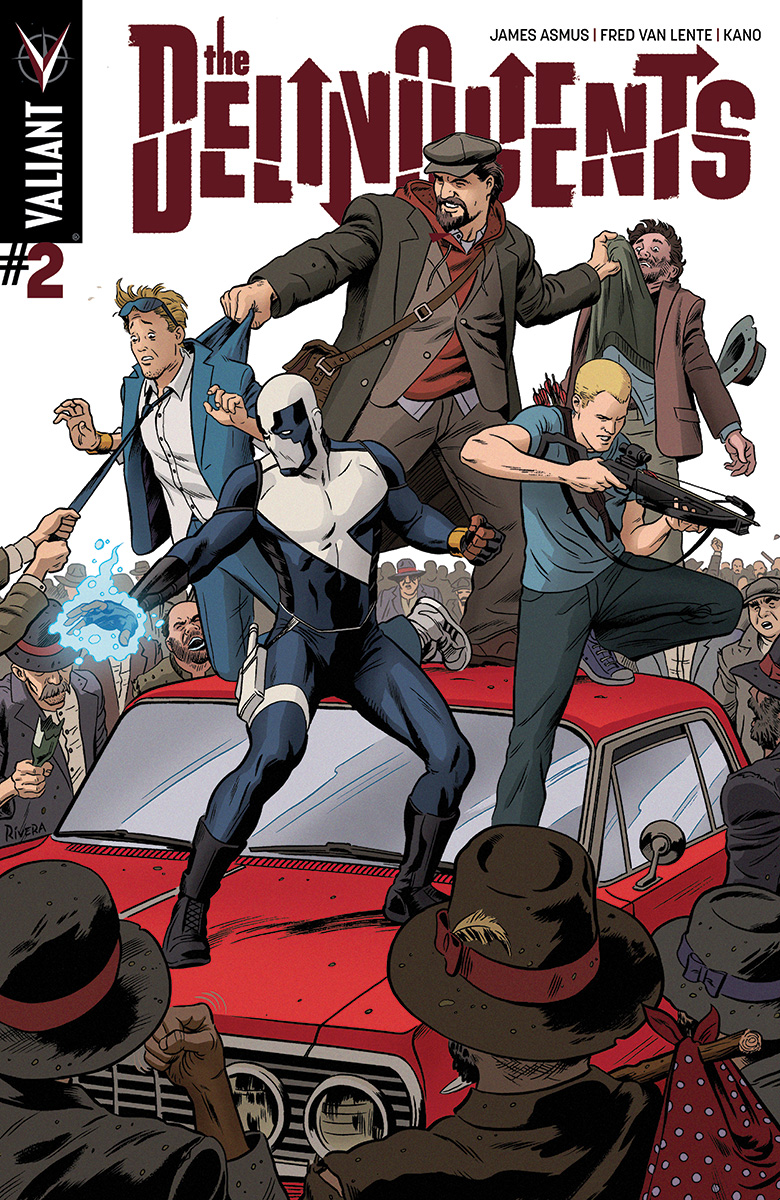 PREVIEWSworld: What was it like to work together on this mini-series? You guys got along fine, right?

James Asmus: Once I learned that Fred is always right, I stopped mysteriously getting computer viruses that wipe out my hard drives, if that's what you mean.

Fred Van Lente: I can literally say I have never laughed so hard in a story meeting as when James and I were Skyping about The Delinquents. My wife could hear us on the ground floor of our place and she had to come up to my office to see what was so funny!

Soon she -- and you -- will find out. In August in fact!

PREVIEWSworld: What kind of impact will The Delinquents have on the Archer and Armstrong and Quantum and Woody titles in the future?

Fred Van Lente: You know what one of Armstrong's favorite dishes is? Curry goat. Someone better watch his tail.

James Asmus: It's definitely going to open Quantum and Woody's eyes to all the other craziness bubbling up in their world. They definitely fell into their powers have been continually caught in the fallout of their choices throughout the first year. I wanted to use the break into Delinquents as a chance to put a bit of a bow on their initial transformation, and let the cross-over be a fresh start as they pull their heads out of their [expletives] and start engaging with the world at large as, well... "heroes."
Click on the preview images below to view larger size