Old Is New Again With Sensation Comics
Jun 03, 2014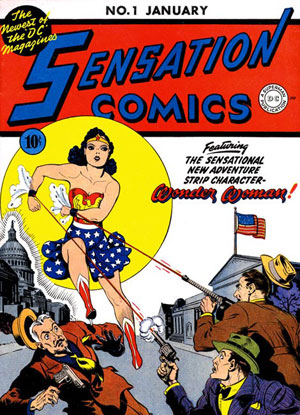 The Amazon Princess is getting her due. Critical acclaim for what Brian Azzarello and Cliff Chiang are doing with the ongoing Wonder Woman series has evidently hit fever pitch, and fans clamoring for more have been rewarded for their enthusiasm. In the June PREVIEWS catalog, Sensation Comics Featuring Wonder Woman #1 (JUN140247) has been announced, with Gail Simone and Amanda Deibert attached as writers, and Ethan Van and Cat Staggs assigned as artists.
With the announcement, old schoolers can't help but smile, as the title of the series is a tip of the hat to when Wonder Woman first appeared in the pages of the 1942 ongoing series Sensation Comics. But paying tribute to the Golden Age of comics is not only what fans can write about on their blog pages. It's an all-out girl fest of creators hashing out the goodies. Digital series editor Kristy Quinn went on record to put things into perspective, and give readers a heads-up on what's down the road for this new series.
In giving fans a taste of things to come, Kristy commented the book has "everything! We've got monsters and kids and villains and Amazons and Themyscira and Gotham and heroics and music and yes, bullet-deflecting bracelets. The touchstone for each story is what it says about Diana's place in the DC Comics universe, and ours."
Look for Sensation Comics Featuring Wonder Woman #1 in the DC Comics section of the June PREVIEWS catalog!