Sneak Peek: Imperial #1 From Image Comics
Jun 02, 2014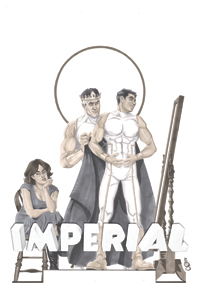 Mark is two weeks out from making the biggest decision of his life. But which big decision will it be?
Taking the ring of the woman of his dreams and becoming a married man?
Or taking the crown of the world's only superhero and becoming the next Imperial? Steven T. Seagle (The Red Diary/ The Re[A]D Diary, Genius, it's a bird…) teams with Mark Dos Santos for a buddy book with commitment issues.
Check out Imperial #1 (JUN140469) in the Image Comics section of the June PREVIEWS catalog!
Click here to see a preview!