Morrison's Mayhem Manifests in The Multiversity #1
May 28, 2014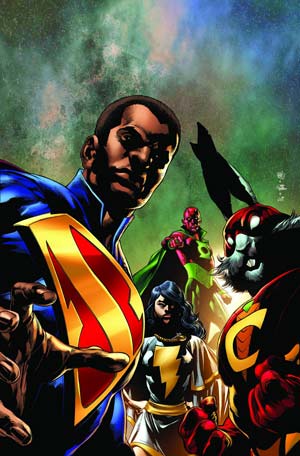 Grant Morrison has given us mind salad mysteries for ages, with the most complex being The Invisibles and the more mainstream being his work on JLA. But one such story that was supposed to be stewed in science and served up for the salivating masses was The Multiversity. For years fans have read that the story was in transit, only to find out later that yet another train had derailed and taken out those passengers that were eagerly waiting for transportation to Grant's cranium cocktails.
Such is the nature of publishing.
Missed deadlines, delayed flights, cosmic radiation, there is always some meteorite that can come along and dash into the planet that makes you wait yet again for word of when a project will resurface after editorial constructions crews are sent to excavate buried treasure that's trapped under steel and rubble.
That pretty much sums up the frustration for fans that have wondered if The Multiversity would ever be a reality. The waiting line started in 2010, and it hadn't moved since.
But with the June PREVIEWS catalog comes the word that Grant Morrison's The Multiversity (JUN140145) will finally see the light of day. Over eight years in the making, with a roster of artists on board to give birth to Grant's brainstorms, this new comic is giving fans seven complete adventures spanning through multiple parallel universes that may or may not be able to be pronounced right if you run off the road on your first test drive.
"How safe is your head?" Morrison has teased.
Should you have bought your helmet already, we urge you to slip it over your head, and jetpack your way over to the DC Comics section in the PREVIEWS catalog to check out The Multiverity #1 with art and a cover by Ivan Reis and Joe Prado. This book is scheduled to ship August 20th.