Sneak Peek: "Outcast #1" From Image Comics
Mar 31, 2014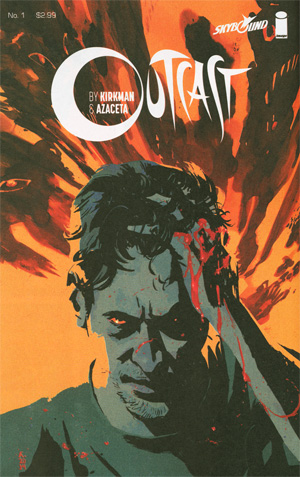 Bits and pieces you've picked up on the Internet, but now the wait is over. Time for the official announcement, folks. Outcast is here from Image Comics. It is a new story about demonic possession. Yes, we know that Robert Kirkman did a one-shot for Top Cow called Demonic. This is not a follow-up to that book. This is not a pilot. This is a series. This is a series being brought to us from someone who already knows how to enthrall us with zombies. Now, he's about to take on the paranormal.
In Outcast (APR140481), drawn by Paul Azaceta, a new tale of terror is about to descend on us June 2014, and it looks to be the perfect storm. What makes us say that, and raise the bar that high? Check out the sample internal pages, and see for yourself. The story has already been optioned for television by Cinemax. It seems there's no end to Kirkman's magic touch. The man is on fire, it seems to be spreading into the life of Kyle Barnes' world, where he has spent a lifetime exposing people who have been possessed by demons. And one of those people was his mother.
Think you've got it bad?
Check out Kyle Barnes' life in Outcast #1.
Click here to see the preview!