In Comic Shops 10/16/2013: Invincible #106
Oct 14, 2013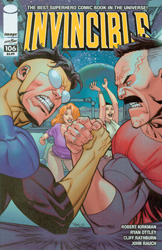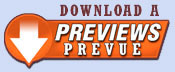 Publisher: Image Comics

(W) Robert Kirkman
(A) Ryan Ottley, Cliff Rathburn
(Cover) Ryan Ottley

Who's stronger? Who cares? Certain people are worried that there's an alien custom whereby a baby is punched out of the mother and grown in a tube. And sometimes family ties aren't enough to suppress that fear. Then there's the matter of severe dismemberment in this issue. There's a lot of it. Oppression doesn't seem to sit well with folks in issue #106 of Invincible.
---
Item Code: JUN130545 In Shops: 10/16/2013 Price: $2.99

---
Are you following PREVIEWSWorld on Twitter yet? Follow @PREVIEWSworld